Jeff and Lori Collins' Anacreon.net
Photos from our son Alexander William Collins
Last updated Thursday June 12, 2003. Newer pictures are at the bottom!
Alex is now over 16 months old. He's at least 35 inches tall and over 40 lbs. He's going to be a really big kid at this rate! He continues to have great motor skills. His newest trick is climbing on furniture, the playground equipment at the park, his toys, us, whatever is handy.
The tongue surgery did him a lot of good. He's now able to chew food and stick out his tongue (which he never could do before!). He isn't throwing up as much as he used to and we hope the trend will continue. (tap on wood) We still have a lot of work to do getting him to eat table food and to eat fewer, larger meals. His sleeping is also improving, though it too could use some work.
Alex is babbling more frequently and with more consonant sounds now that his tongue is un-tied. He's still not talking, but we're hoping he'll get around to it soon. Our working theory is why should he bother when he has at least one of us at his beck-and-call at all times!
Lori and I continue to take care of him at home, each working half time and caring for him half time. Lori works mornings and takes care of Alex in the afternoons. Jeff takes care of Alex in the mornings and works in the afternoons.
Photos from Nov 2002-Mar 2003 are here. Photos from the October 2002 time frame are here. Some photos from June 2002 are here. Older photos (before June 2002) are here.
(Pictures--click to enlarge) (Newer pictures are at the bottom)
(Note: When you click on the pictures, it will bring up a half-size version of the original. These are easier for most web browsers to display and take up less disk space. If anyone wants hi-res originals, let me know
---



(Posted 6/12/03) Taken May 11-12. Climbing up on the diaper boxes, on top of the coffee table, and a break from climbing to eat breakfast.
---


(Posted 6/12/03) Taken May 18. Some of the few pictures I managed to snap during the Mother's Day party for Lori's family at our house.
---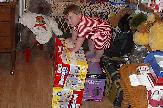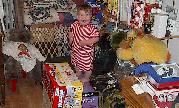 (Posted 6/12/03) Taken May 20-31. Assorted cuteness. More climbing. And awfully proud of his climbing.
---



(Posted 6/12/03) Taken June 2-5. Stuck in the party ice bucket. And trying to climb into his play pen by standing on his piano.
---



(Posted 6/12/03) Taken June 7-8. Showing off his tidiness in eating rice. And it wasn't enough that we had to retire the glass center of the end table (for fear he'd stand on it and break it). Now Alex used the enpty space in the middle to rappel down from the big chair!